By Judith Travers, Accounts Payable Executive
On 25th September an intrepid team of Heywood eco-warriors, armed with just a packed lunch and a pair of wellies, set off to Hasgill Beck in the Forest of Bowland to complete our 2nd mission of the year to do our bit to help save the planet.
The aim of this assignment was to shore up the banks of the Hasgill River to prevent erosion of the riverbanks and to provide a stable environment for wildlife habitation and biodiversity.
This was going to be the biggest brash bundling project attempted in the North of England, so the responsibility weighed heavily on our shoulders. The sun shone for the mission, and we arrived at a place of immense beauty keen to start.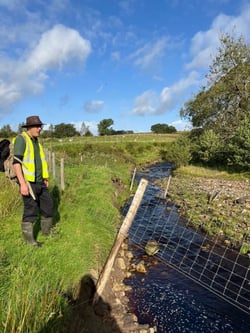 Following a quick intro from Guy from the Ribble Rivers Trust and some advice on health and safety we were issued with gloves and a pretty mean-looking sawing tool and led to a nearby overgrown woodland area where we were instructed to cut down any branches approximately 6ft in length with a diameter of 1 – 2 inches.
Sensibly spreading ourselves out so we didn't take each other eyes out with our falling branches we began to amass large piles of 50% deciduous and 50% fir branches which we were reliably informed was the optimal blend for the 'bundle'.
After collecting enough branches, we rewarded ourselves with a well-deserved lunch break. Energised and ready to continue, we embarked on the task of transforming the branches into bundles. This involved carefully placing three strands of hessian rope across the path, onto which we arranged a diverse assortment of branches. The result was a meticulously crafted collection of bundles, each one ready to contribute to our mission.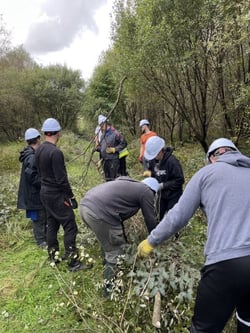 The rope was then drawn together and knotted at three points along the branches creating the 'bundle'.
Throughout the course of the day, our dedicated team successfully crafted 26 brash bundles that Guy seemed incredibly pleased with.
The Bundles were left along the side of the path ready for the next team of volunteers who were due to arrive the following day to transport down to the river and install in between fence posts along the riverbank.
As the sun dropped towards the horizon a weary but happy band of volunteers wended their way home contemplating how nice it had been to be away from technology for a day and wondering what would be in store for our next mission.
Read more about Heywood's Environmental Commitment and how we've been able to neutralise our carbon emissions.